Nobody is perfect, but you are different. And God loves different, so we can all be a Godly Example!
HELP. INSPIRE. IMPACT.
Matthew 5:16 "In the same way, let your light shine before others, so that they may see your good works and give glory to your Father who is in heaven."
It is amazing how you can change someone's life by simply saying H.I.I.!
During the pandemic, people were missing speaking and seeing to people and the only thing that got us through was God and saying "H.I.I." to someone in the grocery store. When someone said, "Hi," it was an amazing feeling. It provided hope in people's eyes and a brighter day behind the smile in the mask. Our Godly Example clothing was a conversation starter and a reminder of God's Promise.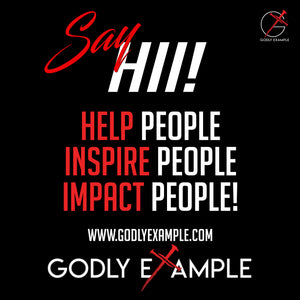 Who is "Godly Example?"
Godly Example is a faith-based clothing brand design for those who love God and strive for a first-class and genuine lifestyle. It is for people who desire to live in a more Godly way.  The truth of the matter is that nobody is perfect, but we can all strive to be a Godly Example! Now that is #FACTS!
We believe that people can be the only time some people know of God. With our clothing on, we believe we can introduce God when we "Say H.I.I.!" The goal of Godly Example is to help people, inspire people, and impact people. Simply put, being a Godly Example means representing God, a power higher than yourself. Through our fashion and service, we encourage everyone to Rep God and be a GODLY EXAMPLE!
Happy representing!
​
-Shaun P!
Owner & Founder
"Now then, we are ambassadors for Christ …" 2 Cor. 5:20.
Our Motto Is To "Say H.I.I.!" HELP... INSPIRE... IMPACT!
"ONLY GOD KNOWS THE ANSWER"
Proverbs 22:6 "Train up a child in the way he should go; even when he is old he will not depart from it." 
12 year old, Cam asked if he could learn how to make shirts. He decided that he wanted to let people know God can use anybody by making this t-shirt for Godly Example Clothing. He wanted to make one to sell and let the proceeds feed & clothe the homeless. He will personally make these.
Luke 2:40 "And the child grew and became strong, filled with wisdom. And the favor of God was upon him."
About Godly Example
Our Goal & Our Mission
Godly Example is a clothing line that acknowledges that no one is perfect but understands that we were created to be a Godly Example. Our goal is to help people, inspire people, and impact people in the most genuine and authentic way!
_____________________________________________
Our Value is to "Say H.I.I.!"
Help:  What we say and what we do can change the lives of others and us too. We believe that to whom much is given, much more is required. It is our responsibilities to be a Godly Example and treat others the way we want to be treated and extend a hand when needed. This is the Golden Rule.
Inspire:  We believe that by being a Godly Example, we can effect people's vision for their lives through the way they act, feel, move and interact with others. Godly Example Clothing helps remind us that we represent God. We acknowledge that nobody is perfect, but we can all strive to be the best versions of ourselves.
Impact:  We believe that by being a Godly Example, we can influence others by putting others first, operating with integrity and giving back to others. 
​
Subscribe to our newsletter
Promotions, new products and sales. Directly to your inbox.